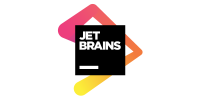 About JetBrains:
We help developers work faster by automating common, repetitive tasks to enable them to stay focused on code design and the big picture. We provide tools to explore and familiarize with code bases faster. Our products make it easy for you to take care of quality during all stages of development and spend less time on maintenance tasks.
Address:
JetBrains s.r.o. Kavčí Hory Office Park, Na hřebenech II 1718/10 Praha 4 - Nusle - 147 00, Czech Republic
Number of employees:
~1000
JetBrains Website
JetBrains Twitter
JetBrains LinkedIn Page
JetBrains Facebook Page
jetbrains Products
Search
Products

Categories
Filter within
search results
Showing 1 -
10
of 11 Apps
Compare Products
Select up to three two products to compare by clicking on the compare icon () of each product.
{{compareToolModel.Error}}
Now comparing:
{{product.ProductName | createSubstring:25}}
X
Compare Now