---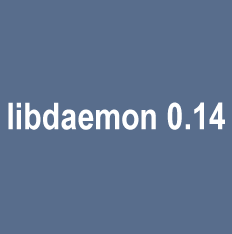 libdaemon 0.14
Lightweight C library that eases the writing of UNIX daemons
Helps with:
Events and Signals,General
Similar to:


More...
What is it all about?
libdaemon is a lightweight C library that eases the writing of UNIX daemons.
Key Features
* A wrapper around fork() which does the correct daemonization procedure of a process * A wrapper around syslog() for simpler and compatible log output to Syslog or STDERR * An API for writing PID files * An API for serializing UNIX signals into a pipe for usage with select() or poll() * An API for running subprocesses with STDOUT and STDERR redirected to syslog.
Compare Products
Select up to three two products to compare by clicking on the compare icon () of each product.
{{compareToolModel.Error}}
Now comparing:
{{product.ProductName | createSubstring:25}}
X
Compare Now