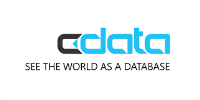 About Cdata Software:
CData Software is a leading provider of data access and connectivity solutions. We specialize in the development of Drivers and data access technologies for real-time access to on-line or on-premise applications, databases, and Web APIs. Our drivers are universally accessible, providing access to data through established data standards and application platforms such as ODBC, JDBC, ADO.NET, OData, SSIS, BizTalk, Excel, etc.
Address:
North Carolina, USA
Cdata Software Website
Cdata Software Facebook Page
cdata-software Products
Search
Products

Categories
Filter within
search results
Showing 1 -
10
of 78 Apps
Compare Products
Select up to three two products to compare by clicking on the compare icon () of each product.
{{compareToolModel.Error}}
Now comparing:
{{product.ProductName | createSubstring:25}}
X
Compare Now